When the cold nips at your nose, when twinkling lights make everything feel that much more magical, and messages of joy, love and peace are everywhere, it can only mean … It's holiday time at Carlyle Place!
We have so much in store and are excited to share a sneak peek at what everyone at Carlyle Place can look forward to in the coming weeks. So grab that festive sweater, fill your mug with cocoa and dust off those dancing shoes—you're cordially invited to celebrate the most wonderful time of the year with us.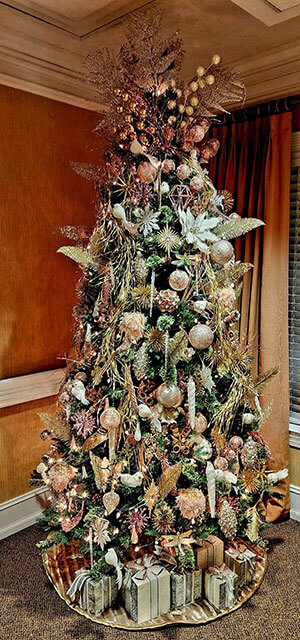 Showing Appreciation
December is packed with opportunities for giving, sensational seasonal eats and festivities filled with fun! Each year, we kick off the celebrations with the Employee Gift Distribution Party.
This event is a celebration of the fellowship and appreciation the Carlyle Place residents have for our exceptional staff who make a difference in residents' lives every day.
"There is a tremendous amount of mutual admiration between the employees and residents," Resident Advisory Council (RAC) Treasurer, Marianna Gebara, explains. "They've become part of our family, and this is just one way we can say 'thank you' for taking care of us."
The highly anticipated event provides employees a chance to relax and enjoy some well-deserved accolades, while allowing RAC members to show the residents' appreciation tangibly with gift checks.
"It's like a bonus to them," Marianna says. "The party is the grand finale for the year but also a wonderful time to express—and we can't say this enough—our gratitude."
How It Works
Collecting gifts for the Employee Gift Fund is a yearlong process, and the money goes to every employee (excluding administrators) whether they're full-time or part-time. Gifts are based on the total number of hours the employee has worked over the course of the year. This way, all employees are guaranteed to receive a monetary gift.
Looking Ahead
The Employee Gift Distribution Party may kick off the holiday season at Carlyle Place, but we will definitely have a multitude of activities to spread Christmas cheer!
Resident Life Director, Susan Bankston, said excitement continues to build for signature events like the Carlyle Choristers Christmas Concert on December 5th, as well as the formal Holiday Ball on December 8th.
We're also adding a new open house event this year, which will take place on December 20th. This event will give residents the opportunity to open their garden homes for other residents to stop by, socialize and enjoy a holiday treat while they stroll through a bespeckled path of twinkling luminaries.
If these holly jolly events don't spark your holiday spirit, Susan says there will also be a Golf Cart Decorating Contest, and the Employee Holiday Luncheon (where the Employee of the Year award winner will be announced).
Noteworthy Events
With so much excitement in the air, here's a summary of notable happenings planned in December.
Carlyle Choristers Concert
Holiday Open House
Golf Cart Decorating Contest
Employee Holiday Luncheon
Employee Gift Distribution Party
Holiday Ball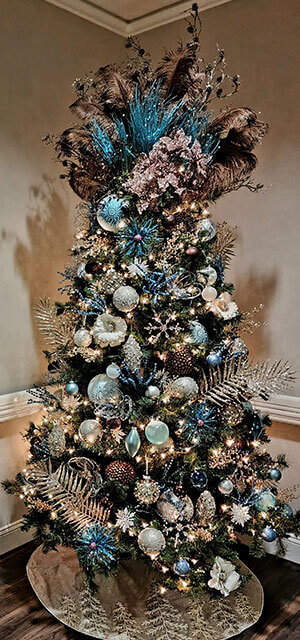 A Georgia Winter Wonderland
The Carlyle Place grounds will sparkle with a joyous assortment of almost 20 Christmas trees. "We like to reuse many of our decorations for several years at a time before we re-theme an area," Susan continues.
Susan explains that each tree will have a different theme to "offer enough variety so that something will appeal to everyone's tastes."
Planning these signature holiday happenings begins in spring, while the actual decorating for the holiday season happens the week after Thanksgiving.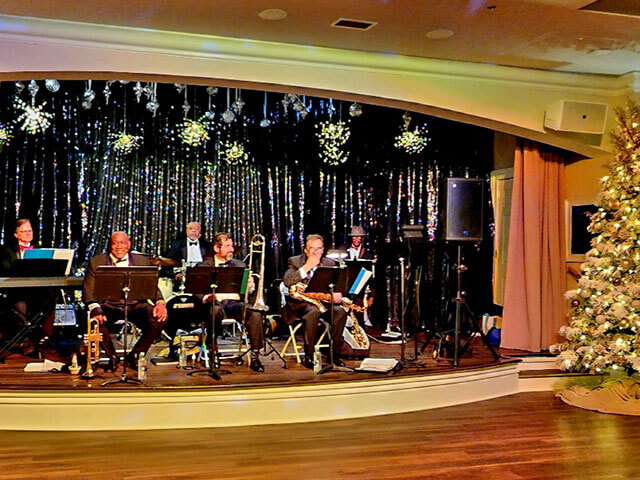 The Holiday Ball to Top Them All
If we could name one celebration you can't miss, it would probably be the annual Holiday Ball.
Formal attire is requested (but not required), and we'll have live music provided by The Little Big Band! Residents can also enjoy delicious hors d'oeuvres and desserts, which add a festive flair to the event.
Our holiday festivities showcase the type of amazing community activities and events that make Carlyle Place a great place to be all year long. If this sounds like a community you'd like to be a part of, schedule a visit and step into our winter wonderland by calling (478) 405-4544.
Sign up for the Carlyle Place Newsletter
"*" indicates required fields