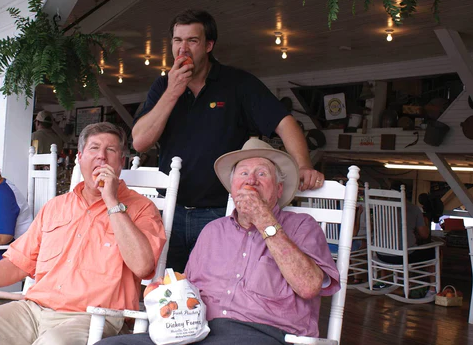 It's peach season in Georgia, and for family-owned Dickey Farms, peaches are more than just fruit—they're a way of life. Read why its orchards are a Macon must-see!

Summer in Macon means peach season has arrived! Georgia is well known for the famed stone fruit, as anyone who's ever picked a fresh peach can tell you. There's nothing quite like that juicy first bite. Bob Dickey, one of Carlyle Place's most beloved residents, made peach farming his life's work. His family-owned Dickey Farms features some of Macon's best and most productive orchards as well as good, old-fashioned fun for the whole family. Like his father before him, Bob bestowed the family tradition to the next generation: His son Robert L. Dickey III now runs the farm, along with Bob's grandson Robert  "Lee" Dickey IV  and it's as popular as ever, especially during peach season.

See Georgia's Oldest Peach Packinghouse

Dickey Farms sits just outside Macon in the little town of Musella. The first peach trees were planted in 1897, and the packinghouse (which is where peaches are still packed and shipped today) was built in 1936 using lumber hewn from the property. Robert L. Dickey Sr. (Bob's grandfather) was an agricultural innovator who commercialized the Georgia peach trade. Not only did he build his packinghouse near rail lines for easier distribution, but also Bob Sr. introduced many first-of-their-kind processes and special machinery for cleaning large volumes of fruit.

Bob Dickey officially took over farm operations in 1969 and brought his son Robert aboard in 1977. The farm has expanded in acreage over the past 125 years to become an agritourism destination in central Georgia. Nowadays, when you visit Dickey Farms, you can find more than just peaches—there's fun for the whole family! You can grab farm-fresh goodies and produce in the general store or take a tour to see firsthand how peaches make the journey from the orchard to the grocery store.

Taste the Season

Is there anything better than farm fresh produce? Visiting an orchard during the summer and fall is a must-do for most people, and Dickey Farms is happy to supply this quintessential experience to those near and far.

Nothing quite compares to a perfectly ripe peach picked from the tree, but there's something extra special about Dickey Farms peaches. Anyone who knew Bob will tell you his orchards were his pride and joy, so maybe it's the family's passion for peach cultivation that sets their harvest apart.

"My dad loved growing peaches and especially planting new orchards," Bob's son, Robert says. "His passion made him spring out of bed early every morning. You couldn't beat Dad to work. He loved riding the orchards and checking on the trees. Even in his last year, he could see work that needed to be done on the farm and was sure to let me know. He always got us started on the first day of packing, too."
A Labor of Love
Bob Dylan may not have wanted to work on Maggie's farm, but Bob Dickey loved working on his, even after moving to Carlyle Place with his wife in 2019. Although he modernized many operations, cultivation and harvesting are still labor-intensive. It's the human touch that makes Dickey Farms peaches worth their weight in gold.

Robert Dickey still does most things the way his father taught him, but he's always open to learning new techniques. "All of the peach trees are hand-pruned in the winter, hand-thinned in the spring, and the peaches hand-picked in the summer. We also appreciate new research which helps us grow better varieties of peaches over time," he said.

According to Robert, this season's best varietals are Scarlet Prince, July Prince, and August Prince. Dickey Farms also offers a variety of special peach treats including ice cream, hand pies, fritters, salsas, and other delicacies. If you're a peach enthusiast, Dickey Farms is a summertime staple.

Bringing It All Back Home

Carlyle Place residents enjoy outings to Dickey Farms throughout the year. It's a seasonal highlight when residents return with their bounty of treats to share with friends and neighbors. It's also a two-way street, because when there's a special occasion or event on campus, it's not uncommon for Dickey Farms to send over some of its signature peach ice cream to make everyone's day a little peachier.

When most people think of Georgia, they think of peaches. It is the Peach State after all, and where better to enjoy them than right here? Thanks to generations of farmers like the Dickeys, Georgia remains one of the nation's best regions for cultivating fruit.
Fresh produce is one of life's simplest pleasures. At Carlyle Place, we're lucky to be just a short scenic drive from Dickey Farms and its unbelievable peach ice cream and other delights. And thanks to Carlyle Place's maintenance-free lifestyle, there's plenty of time to take the long route to the farm, relax and eat a peach. Want to come for a visit? Call us today at 478-405-4544.
Sign up for the Carlyle Place Newsletter
"*" indicates required fields