Carlyle Place is home to many veterans, and this past spring, resident Dr. Herb Greenwald participated in an Honor Flight to Washington, D.C., along with other Macon-area veterans. Never heard of an Honor Flight? The program, which began in 2005, has taken more than 200,000 veterans to visit memorial sites in D.C. and 130 other locations nationwide. The trips are free for veterans, thanks to corporate and individual sponsorship.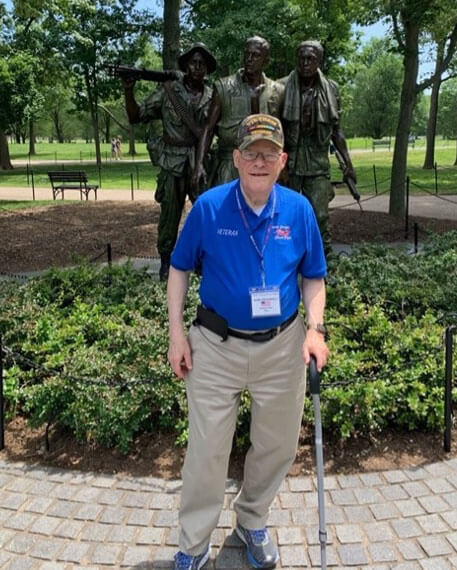 Meet Dr. Herb Greenwald
Dr. Greenwald, or just Herb, as he's known around Carlyle Place, joined the community in early 2020, and it's been an excellent experience for him. He's made new friends and reconnected with some he's known practically his entire life. As a native of the area, he sees quite a few people around the community whom he's known for years.

"I have classmates here. One fellow I've known since age four lives here. We fell out of touch after he got married and moved to North Carolina, but then lo and behold! Here he is at Carlyle Place. He came in and asked for me, and I cannot tell you how surprised I was to see him. So it really has been good living here," Herb says.
Herb attended medical school at the Medical College of Georgia at Augusta University. After an internship at the VCU School of Medicine, Herb entered the service in 1968 and served a tour of duty in Vietnam as a field medic at the height of the Vietnam War. Following the war, he returned to Georgia for his ophthalmology residency and went into practice in Macon in 1973.
Honoring a Hero
Serving in Vietnam made a big impression on Herb, an experience many veterans can relate to. Thankfully for Herb, social groups at Carlyle Place, like the Military Officers Association of America, can help former military personnel connect with each other.

"We have portraits of all the veterans up on the walls who have ever lived here, and it fills the hallway!" Herb says.

It was through these monthly meetings that Herb first heard about Honor Flights. A local Honor Flight chapter representative came and gave a presentation, and Herb knew he wanted to apply. From there, the Honor Flight's team coordinated with him and a chaperone to make the trip happen. Early in the morning on May 20th, Herb and about a dozen area veterans took a specially chartered commercial flight from Macon to D.C. where they met with veterans from all over the United States. "They had a bus for us from the airport that took us to the Tomb of the Unknown Soldier at Arlington National Cemetery. They took us up right to the front line so that we could see the changing of the guard, which is really something to see; the guards' precise movements are impressive. After that, they took us to a few other war memorials. It was a wonderful afternoon," Herb recalls.
An Experience to Remember
Of course, the one-day trip to the capital stirred up bittersweet memories but also created opportunities for some unlikely reunions.

"It was a very emotional experience. And your mind goes back to the fellows that were lost. That's the hard part," Herb says.

It wasn't all thoughts of loss, though. Herb reacquainted himself with a fellow Marine who had been a first lieutenant in his battalion. They hadn't seen or heard from each other in more than 50 years!
"One of the chaperones approached me and said, 'There's someone here who'd like to see you.' And she asked me if I remembered someone named Stuart. Of course, I did, and so they brought him over to me, and it was like no time had passed at all. It was incredible," Herb remembers. After a full day visiting war memorials and reminiscing, it was time to head back to Macon. Herb and his fellow veterans received an unexpected and meaningful greeting as they walked off the plane—a crowd of more than 100 people had gathered to celebrate them and thank them for their service. Words can't describe how much the day meant to Herb, and he wholeheartedly recommends the Honor Flight experience to anyone who ever served their country.

If you or someone you know is a veteran and would like to participate in this once-in-a-lifetime opportunity, reach out to your local Honor Flight chapter and apply today. Herb won't be the first person to tell you the experience is worth it.

At Carlyle Place, you'll find neighbors from all walks of life, and like Herb, they're happy to share memories and exchange stories with you. Walk our halls, and you're bound to meet new friends and learn something fantastic. If you're looking for a retirement community where residents create meaningful connections and share a strong sense of togetherness, call us today at 478-405-4544 and schedule a visit.
Sign up for the Carlyle Place Newsletter
"*" indicates required fields